Workflow for Rt estimation and forecasting
Source:
vignettes/estimate_infections_workflow.Rmd
estimate_infections_workflow.Rmd
This vignette describes the typical workflow for estimating reproduction numbers and performing short-term forecasts for a disease spreading in a given setting using EpiNow2. The vignette uses the default non-stationary Gaussian process model included in the package. See other vignettes for a more thorough exploration of alternative model variants and theoretical background.
Data
Obtaining a good and full understanding of the data being used is an important first step in any inference procedure such as the one applied here. EpiNow2 expects data in the format of a data frame with two columns, date and confirm, where confirm stands for the number of confirmed counts - although in reality this can be applied to any data including suspected cases and lab-confirmed outcomes. The user might already have the data as such a time series provided, for example, on public dashboards or directly from public health authorities. Alternatively, they can be constructed from individual-level data, for example using the incidence2 R package. An example data set called example_confirm is included in the package:

head

(

example_confirmed

)




#>          date confirm




#> 1: 2020-02-22      14




#> 2: 2020-02-23      62




#> 3: 2020-02-24      53




#> 4: 2020-02-25      97




#> 5: 2020-02-26      93




#> 6: 2020-02-27      78
Any estimation procedure is only as good as the data that feeds into it. A thorough understanding of the data that is used for EpiNow2 and its limitations is a prerequisite for its use. This includes but is not limited to biases in the population groups that are represented (EpiNow2 assumes a closed population with all infections being caused by other infections in the same population), reporting artefacts and delays, and completeness of reporting. Some of these can be mitigated using the routines available in EpiNow2 as described below, but others will cause biases in the results and need to be carefully considered when interpreting the results.
Set up
We first load the EpiNow2 package.
We then set the number of cores to use. We will want to run 4 MCMC chains in parallel so we set this to 4.
If we had fewer than 4 available or wanted to run fewer than 4 chains (at the expense of some robustness), or had fewer than 4 computing cores available we could set it to that. To find out the number of cores available one can use the detectCores function from the parallel package.
Parameters
Once a data set has been identified, a number of relevant parameters need to be considered before using EpiNow2. As these will affect any results, it is worth spending some time investigating what their values should be.
Estimation and forecasting
All the options are combined in a call to the estimate_infections() function. For example, using some of the options described above one could call



def

 

<-

 estimate_infections

(


  

example_confirmed

, 
  generation_time 

=

 generation_time_opts

(

generation_time

)

,
  delays 

=

 delay_opts

(

delay

)

,
  rt 

=

 rt_opts

(

prior 

=

 

rt_prior

)




)




#> Warning: There were 15 divergent transitions after warmup. See




#> https://mc-stan.org/misc/warnings.html#divergent-transitions-after-warmup




#> to find out why this is a problem and how to eliminate them.




#> Warning: Examine the pairs() plot to diagnose sampling problems
Alternatively, for production environments, we recommend using the epinow() function. It uses estimate_infections() internally and provides functionality for logging and saving results and plots in dedicated directories in the user's file system.
Forecasting secondary outcomes
The estimate_infections() function works with a single time series of outcomes such as cases by symptom onset or hospitalisations. Sometimes one wants to further create forecasts of other secondary outcomes such as deaths. The package contains functionality to estimate the delay and scaling between multiple time series with the estimate_secondary() function, as well as for using this to make forecasts with the forecast_secondary() function.
Interpretation
To visualise the results one can use the plot() function that comes with the package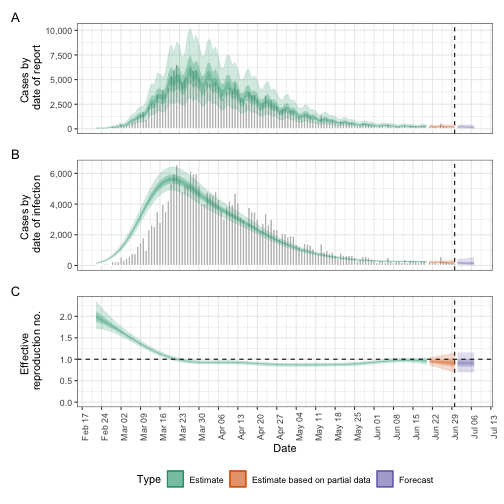 The results returned by the estimate_infections model depend on the values assigned to all to parameters discussed in this vignette, i.e. delays, scaling, and reproduction numbers, as well as the model variant used and its parameters. Any interpretation of the results will therefore need to bear these in mind, as well as any properties of the data and/or the subpopulations that it represents. See the Model options vignette for an illustration of the impact of model choice.